A Complete Suite of Unique Monetizing Solutions
Search
Enables searches results montisation.
Integrated seamlessly within popular browsers' design.
Drives revenue from under-monetized areas of your sites.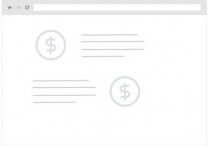 Site Boost
Displays additional and contextual content over a web page.
Engages users with tips and content, alongside links to other related tips.
Designed as an overlaying light box to give you additional untapped ad space.
Page Errors
Displays appealing and targeted ads on your missing pages.
Utilizes several errors on websites such as 404, 401, 400, 403 and 500 to monetize what is otherwise "lost traffic".
Improves user's experience. Users find ads that are relevant to their interests, instead of a dead end.
Post Print
Presents an advert coupled with a green environmental cause upon print events.
Highly user-engaging product.
Gives you better results at lower costs, taking advantage of users "idle time"
Extremely suited to specific verticals (e.g. cooking sites, travel&navigation sites etc.).
The RC (Right Click)
Extends the functionality of the right click's context menu by offering various options to the user (e.g. search, translate, dictionary, search in wikipedia…).
Generate revenue both through search and display models.
The Pic flip
Engages readers while adding undeniable aesthetic value.
Recognizes images on page and "flips" them on user mouse hover to display an ad.
Non-intrusive and thirves to improve user's experience.
Control the number of images "flipped" and various other optimization parameters.
Sliders
Monetizes unused screen margins and frames your site's layout with attractive display banner ads.
Capitalizes on untapped ad real estate of widescreen monitors.
Displays ads outside of your framed webpage, so your site style is unaffected.
Inserts display ads in various locations users scroll down your pages.
Drives revenue from under-monetized areas of your sites.
Page Peel
Super engaging and fun product.
Allows the user to"peel" away a corner of the page to reveal an advert.
Animated to increase engagement.
Extremely fine-tuned by various parameters to optimize monetization.
Drives revenue from under-monetized areas of your sites.
InText
Breaks through typical banner blindness.
Scans your content in real-time and creatively emphases your most valuable keywords.
Relevant, non intrusive advertising for the user.
Maintains complete control over the look and feel of your site.